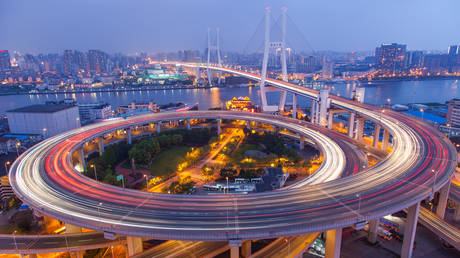 Shanghai Nanpu Bridge, China © Getty Images / Sino Images
The economy is projected to have a stronger-than-expected post-Covid rebound Shanghai Nanpu Bridge, China © Getty Images / Sino Images
The Chinese economy is set to grow 5.4% this year, the International Monetary Fund said this week, citing better-than-expected third-quarter results and Beijing's policy measures. The forecast is an upward revision of an earlier projection of 5% growth.
According to the press release, the economy is on track to meet the Chinese government's 2023 growth target, reflecting a strong post-Covid recovery.
The IMF expects GDP growth to slow next year to 4.6% amid continuing weakness in the property market and subdued external demand. This is still better than the 4.2% forecast from last month's World Economic Outlook (WEO).
"These projections reflect upward revisions of 0.4 percentage points in both 2023 and 2024 relative to October WEO projections due to a stronger-than-expected Q3 outturn and recent policy announcements," the IMF said, adding that core inflation is projected to increase to 2.1% by the end of 2024 as the output gap continues to narrow.
Over the medium term, growth is projected to gradually decline to about 3.5% by 2028, amid headwinds from weak productivity and an aging population.
"The authorities have introduced numerous welcome measures to support the property market, but more is needed to secure a quicker recovery and lower economic costs during the transition," the IMF's first deputy managing director, Gita Gopinath, stated.
The growth outlook upgrade comes as China approved a 1 trillion-yuan ($137 billion) sovereign bond issue last month and passed a bill to allow local governments to frontload part of their 2024 bond quotas, in a move to support the economy.
For more stories on economy & finance visit RT's business section
Azərbaycan24 sosial şəbəkələrdə


The post first appeared on www.azerbaycan24.com